Your contract can be with pleasure complex.
We produce wiring harnesses of varying complexities and sizes in small and medium series production. We run an efficient series production with the help of our extensive fleet of machinery, wiring harness boards or sample modules.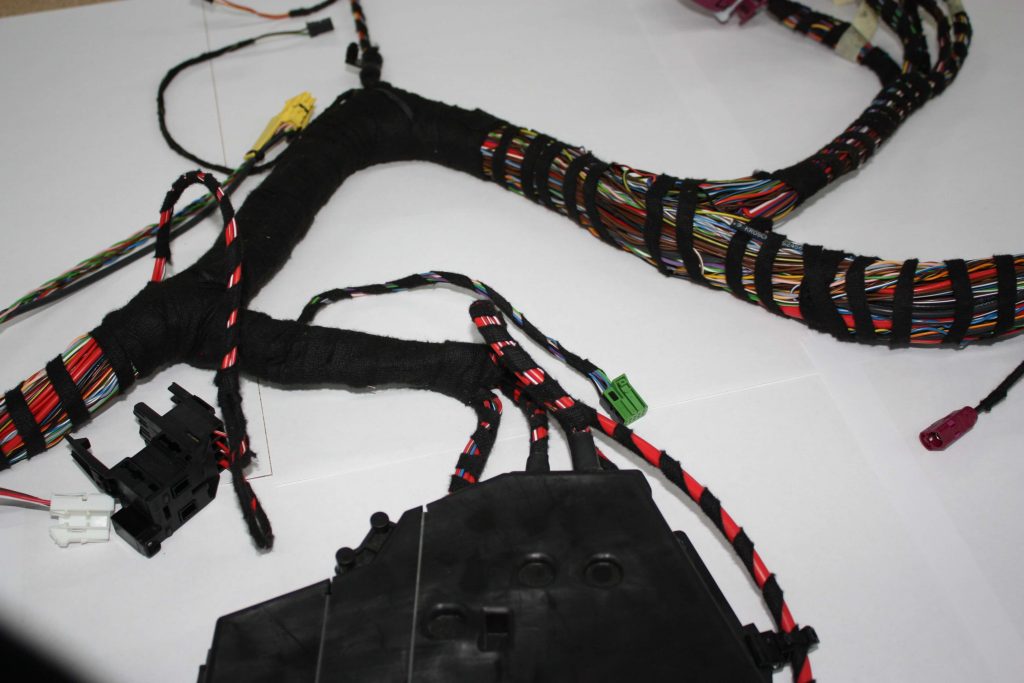 With state-of-the-art machinery and a wide variety of crimping tools, we offer extensive options in relation to the manufacture of PVC wires, silicon wires and Teflon wires.
By using fully automatic and semi-automated machines, we can maintain prices at an affordable level, produce high quantities within a short period of time and thus meet almost all requirements.
With our semi-automated and fully automated machines, we machine single wires on one or both sides according to customer requirements, for example:
Cutting to length
Removal of insulation
Partial/full stripping
Wire end ferrules
Tin-plating
Strip contacts
Loose contacts
With seal
TWIN/double crimp
Twisted
We manufacture single conductors compliant to a range of different standards (VDE, UL) and with differing properties. Temperature ranges from -40°C to 250°C, also highly flexible.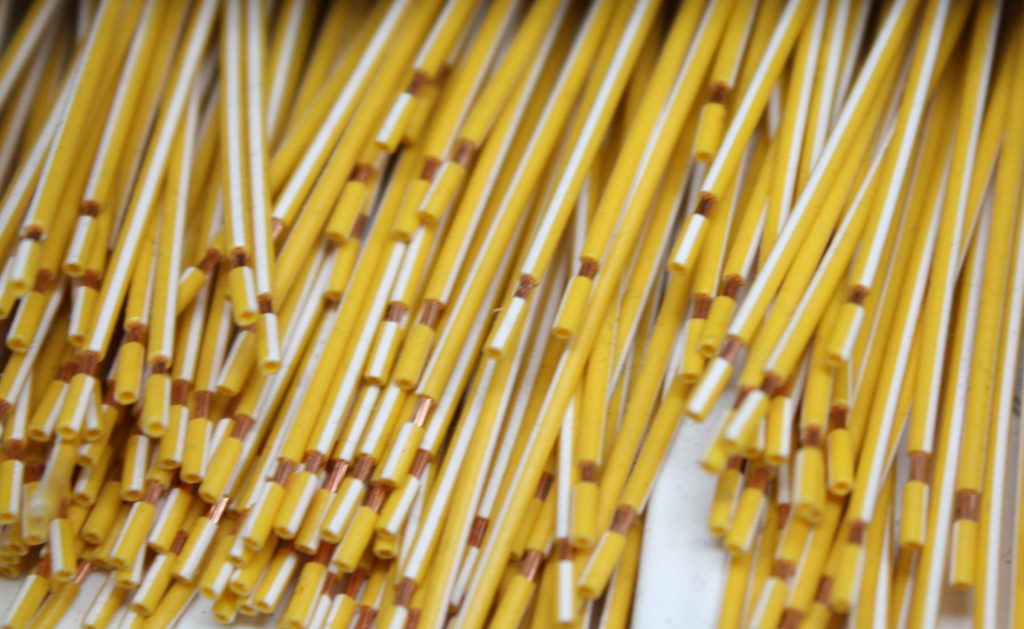 We manufacture ribbon cables with the following grid dimensions: 0.635 mm/1.00 mm/1.27 mm/2.00 mm/2.54 mm and common connector systems such as Micromatch/Picoflex and IDC connectors, colour-coded according to IEC colour code.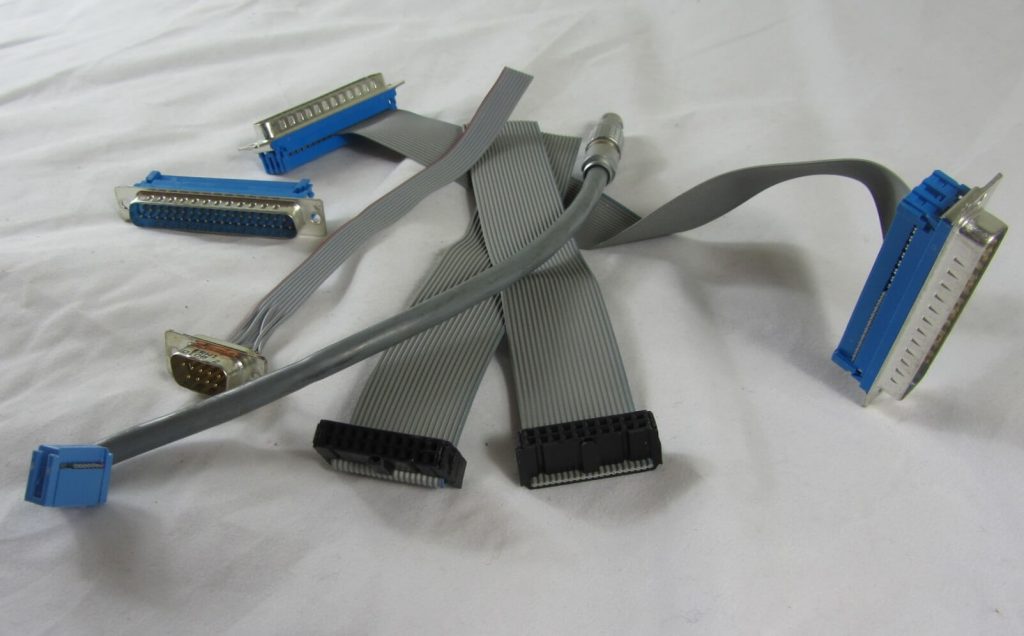 We assemble both shielded and unshielded data cables, data cables twisted in pairs, as well as data cables for sturdy use. We produce customer-specific connector systems. Through our strong connections in all industries, we are able to source virtually any system. Our entire portfolio in this range is also available in variants that are suitable for drag chains.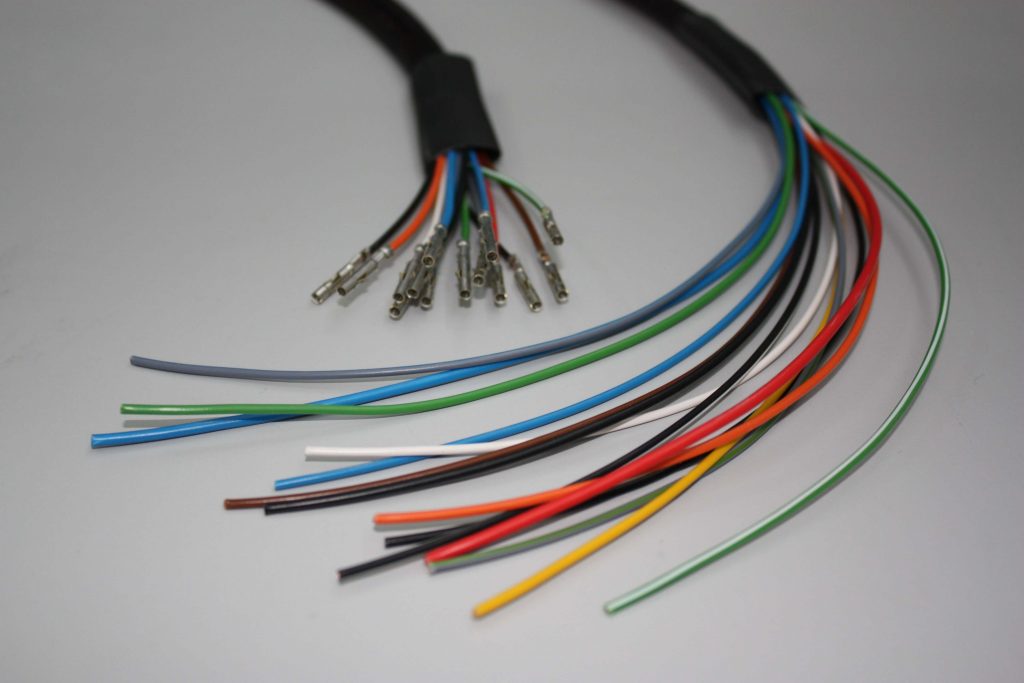 Light plastic-sheathed cables
Our range of light plastic-sheathed cables encompasses a broad spectrum: from unshielded, basic PVC cables to hybrid cables with multiple shielding. The cables we process include rubber, silicone, PVC and PUR cables, as well as light plastic-sheathed cables with TPE, FEP or PTFE sheath insulations.
They also come in a version suitable for drag chains and with protective tubing. We will also be happy to manufacture completely ready-made drag chain modules for you.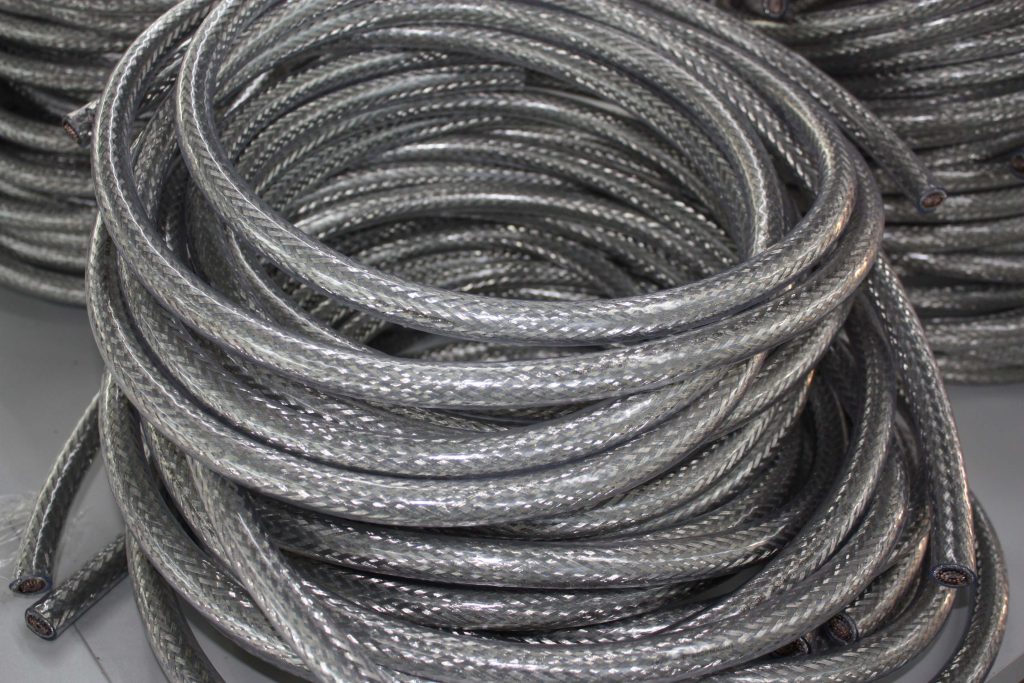 Manufacturing for interfaces and controllers
BUS cables, interface cables and front connector cables are essential for the communication between the CAN interface, CPU, SPS and computers. The requirements of our customers and their applications are just as varied as our product and manufacturing range.
In the area of controllers and interfaces, we offer the assembly of various data cables such as: PROFIBUS cables, patch cables (RJ12/R45), D-Sub cables, Ethernet cables, CAN bus cables, FlexRay cables, LIN cables, RS232 cables, RS485 cables and S7 front connector cables.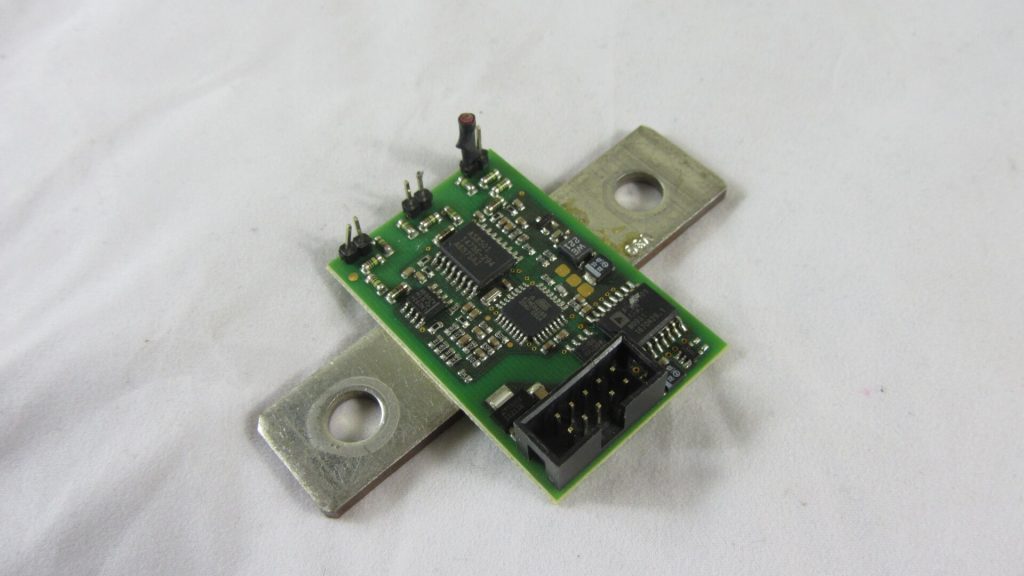 We unite our performance capability in cable assembly with housing machining for terminal boxes, compact control cabinets, break-out boxes, panels and control boxes and offer you the following services:
Identification of requirements and engineering
Documentation
Design and selection of supplier
Machining of cases
Painting in special colours
Laser marking and engraving
Design and creation of front panels
Assembly and wiring
Insulation test, test of protective conductor
High-voltage test
Functional test
Creation of CE declaration and design verifications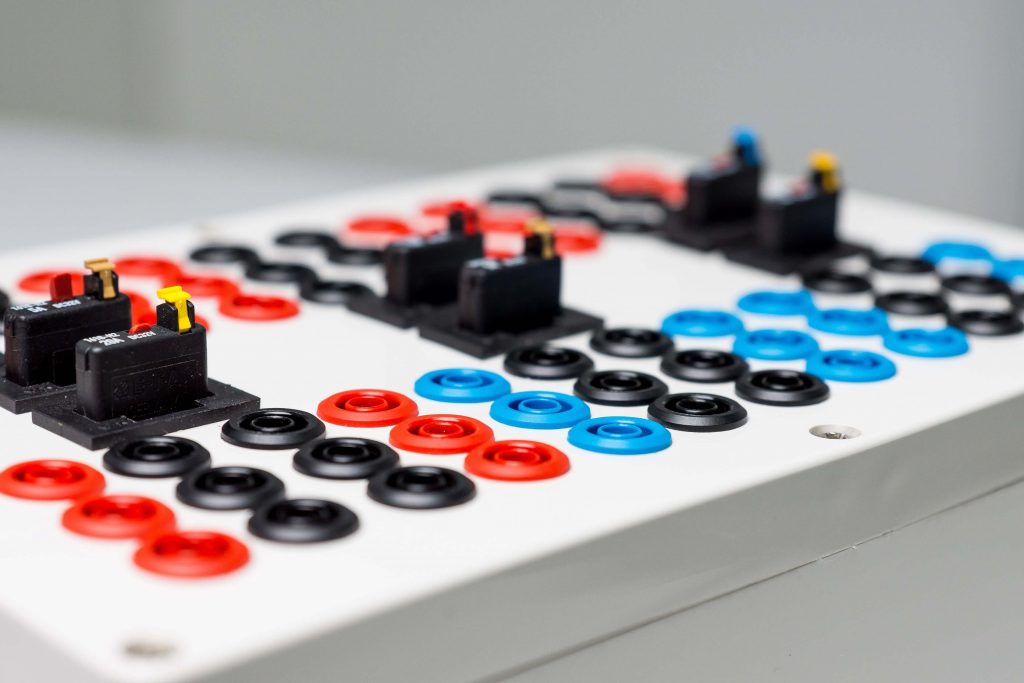 We can produce individual markings with our printing systems.
We print lettering on single conductors, light plastic-sheathed cables and ribbon cables.
Direct printing with an inkjet printing system takes place during the cutting process in our cable cutting shop.
We also print heat-shrinkable tubing, self-laminating wrap-around labels, connectors and open or closed marking sleeves, also colour-coded.
The options for printing are virtually limitless and suitable even for small cable diameters.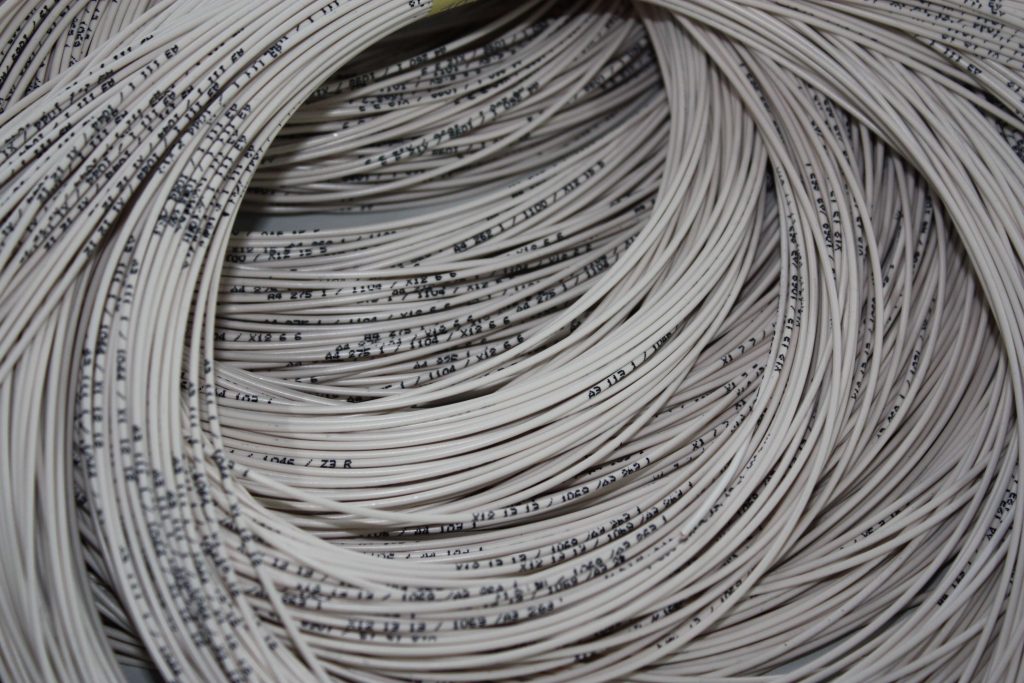 Prototyping, our "BLACKBOX"
Each of our products goes through our prototyping process prior to series production. We produce three prototypes as standard that you as the customer can disassemble and test extensively. Once we have your approval, we will start series production.
We also produce prototypes of all sizes as part of our prototyping process. From the "basic" wiring harness to highly complex control boxes and complete vehicle wiring harnesses in prototype or pilot series vehicles.
We will work very closely with our customer in a team, if required. This team is often involved in the prototyping and together we will fine-tune the customer's products. In prototyping we therefore have very short paths and extremely quick response times.
You can still use the prototyping services and inventive spirit of our Blackbox team even if we are not going to be carrying out series production because you are outsourcing production abroad for budget reasons, for example.
We can also carry out conversions of series productions, particularly in the automotive sector.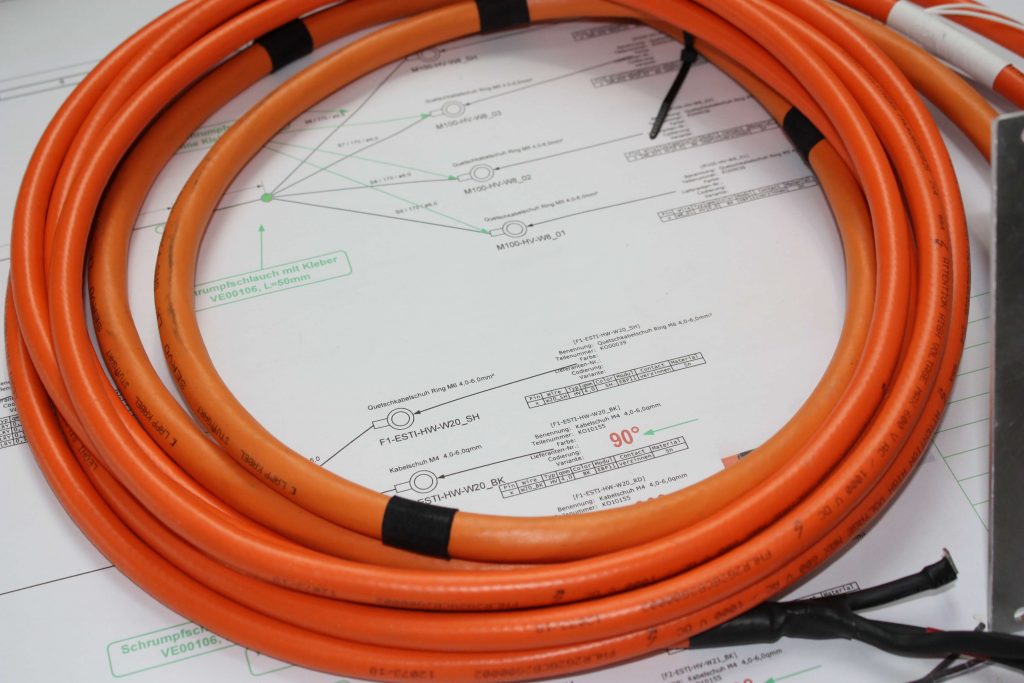 3D printing, additive manufacturing
Prototypes & small series ready for dispatch within just a few days
From the exotic connector that is difficult to source to in-house development of prototypes, we print to an extremely high degree of precision based on your requirements. We will produce a 3D drawing of the item and then we're ready to go!
3D printing, also referred to as Rapid Technology, is an umbrella designation for all manufacturing processes in which material is applied layer by layer, resulting in three-dimensional workpieces (connector cases, fuse holders, special components, etc.).
We do not print with standard PLA filament, but only with ABS plastic.
Koch-CableTec can often deliver within as little as 24 hours. Come and talk to us!
.
Koch-CableTec kann häufig schon innerhalb von 24 Stunden liefern. Sprechen Sie uns an!